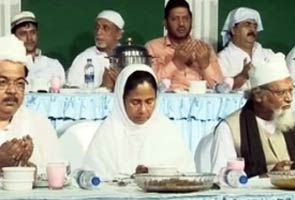 In West Bengal, Muslims account for nearly 30 per cent of votes and it was their swing away from the Left that, to a significant extent, gave Mamata Banerjee her stunning victory in 2011. As chief minister, she has focused strongly on that community, often citing the Sachar Committee report that said the Left had done little for them.
Since April, she began paying a stipend to imams and
muazzins
who issue the call to prayer. But on Sept 2, the Calcutta High Court said the stipend was unconstitutional, putting Mamata's Muslim policy under the scanner.
On Sept 6, Mamata reacted to the High Court order, saying, "I know my imam brothers and muezzin brothers are a little worried. I will not comment on the honourable court's order. But, remember, the government... was with you, is with you and will be with you. If the government eats half a roti, then you will get the other half."
The court order was in response to a PIL filed by the BJP which accuses Mamata of vote-bank politics.
BJP spokesman Ritesh Tiwari said, "Mamata Banerjee is a Brahmin woman. But some people are calling her Mumtaz these days."
The Congress and CPM are more circumspect, especially the CPM which is still embarrassed about the Sachar report that said the plight of Muslims under the Left was among the worst in the country.
"If a government through the Wakf Board does something concrete, it is always welcome. But Mamata Banerjee's so called imam-'bhatta' (stipend) is just an election gimmick," said CPM's Md Salim.
Even some Muslims are critical. Police officer Nazrul Islam wrote a book last year called
What Muslims Should Do
, slamming Mamata for the un-Islamic stipend to imams, her headgear and for her inapt use of Muslim terms. His book has sold 25,000 copies but the Trinamool shrugs it off.
"Nazrul Islam is an officer, not a Muslim or an Islamic scholar," said TMC MP Sultan Ahmed.
For Mamata, the equation is simple. Woo the Muslims and victory is hers. But this has fanned fears that her stance may aggrieve the Hindus and give the BJP an unprecedented fillip in Bengal.